TEMPERING, DOSING & ENROBING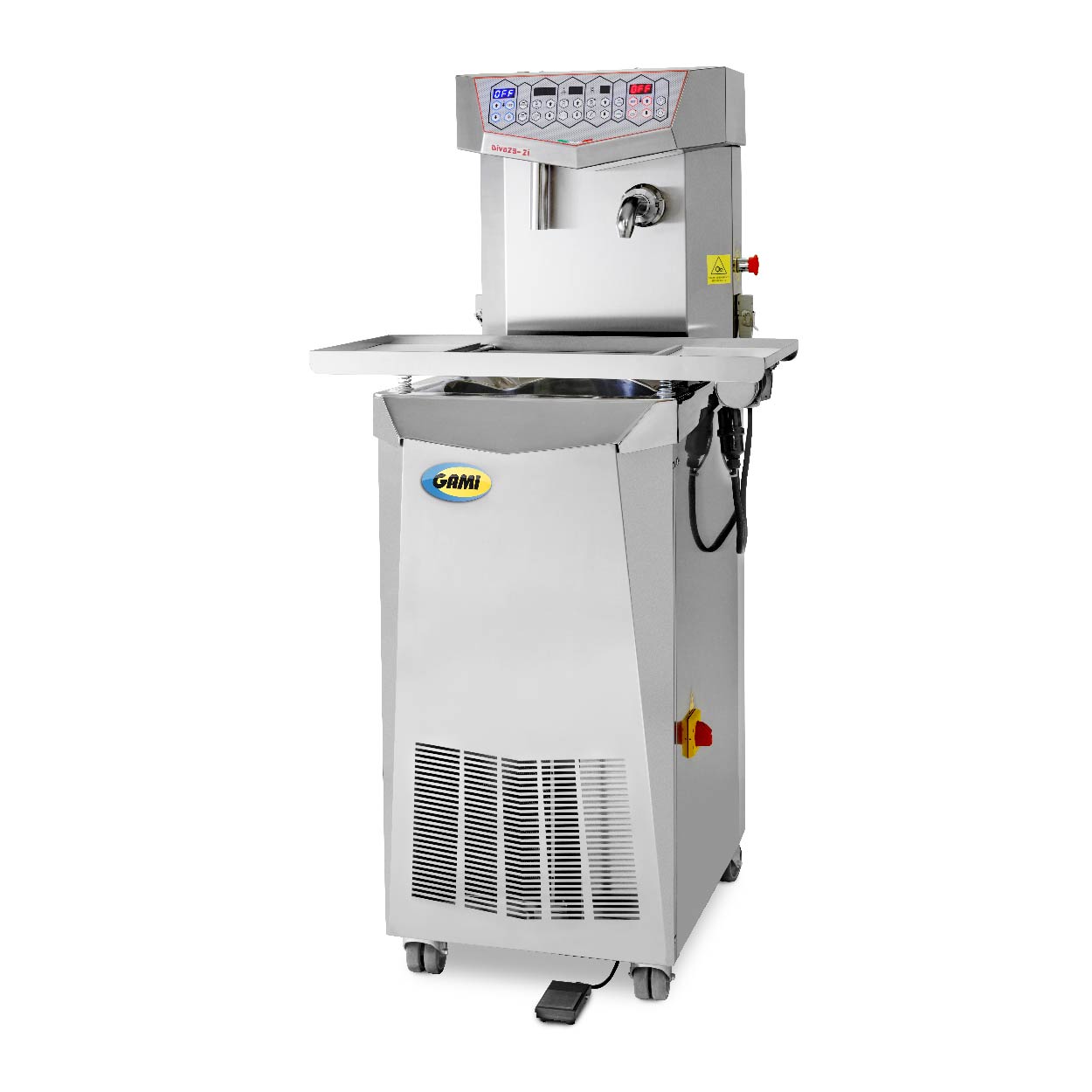 Equipment for tempering, dosing and enrobing are the core of any business, big or small, producing chocolate and confectionery products
Tempering machines function by melting, cooling and heating chocolate to achieve perfect temper, a process which stabilizes the chocolate for shelf life, assures a uniformed appearance and texture and gives your chocolate that beautiful shine and snap. The chocolate is then ready to be dosed into moulds or used for enrobing to coat products with chocolate.
Alternatively, producers of confectionary or bakery products may use enrobing equipment to cover cakes or treats with coatings like icing or compound chocolate which don't require tempering.
Main Features
Various sizes of tempering machines available with dosing heads, vibrating tables, removable augers and flow stopping pedal
Enrobing machines with and without tempering for use with various types of coatings
Enrobing conveyors for difference capacities which allow for full enroning, half enrobing, bottom enrobing or decoration
We have tempering machines which are capable of working with bean to bar or two ingredient chocolate as well as heated dosing heads
Many accessories available with the possibility of customisation to achieve your desired product outcome
At Artisan Industrial, we have a range of options to choose from. Speak to us today to find out more information.
TEMPERING, DOSING & ENROBING Equipment
Chocolate making is an art and a science. For you to produce the perfect blend, you need the right mixture of ingredients, and the process needs to flow smoothly.
With our tempering, dosing, and enrobing machines, that's what you'll gain. Equipment that automates the tempering process by using bain-marie for melting and using a cooling gas for tempering.
Along with automation, our tempering, dosing, and chocolate enrobing equipment offer precision. There are controls that enable you to regulate temperatures to the exact degrees you want at different stages. Moreover, it comes with a mixer that ensures the chocolate remains smooth.
Depending on your production level requirements, there are different models and equipment sizes to choose from. All come in stainless steel and guarantee process efficiency thanks to automation and high precision probes for temperature control.
Along with tempering, dosing, and enrobing, we also provide a host of chocolate-making equipment. Get in touch with Artisan Industrial to find out more about how we can help you.
If you are interested in tempering, enrobing, & dosing equipment, get in touch with us today. Otherwise, have a look at our other Chocolate Making Equipment below.

The process of truly making chocolate, from the unroasted bean through to the finished bar.
Learn More About Our Bean To Bar Equipment

The art of batch producing chocolate and confectionery from base ingredients.
Learn More About Our Chocolate and Confectionery Equipment

When the process is so simple, and return on investment can be so quick, why buy, when you can make it yourselves?
Learn More About Our Industrial Chocolate Equipment