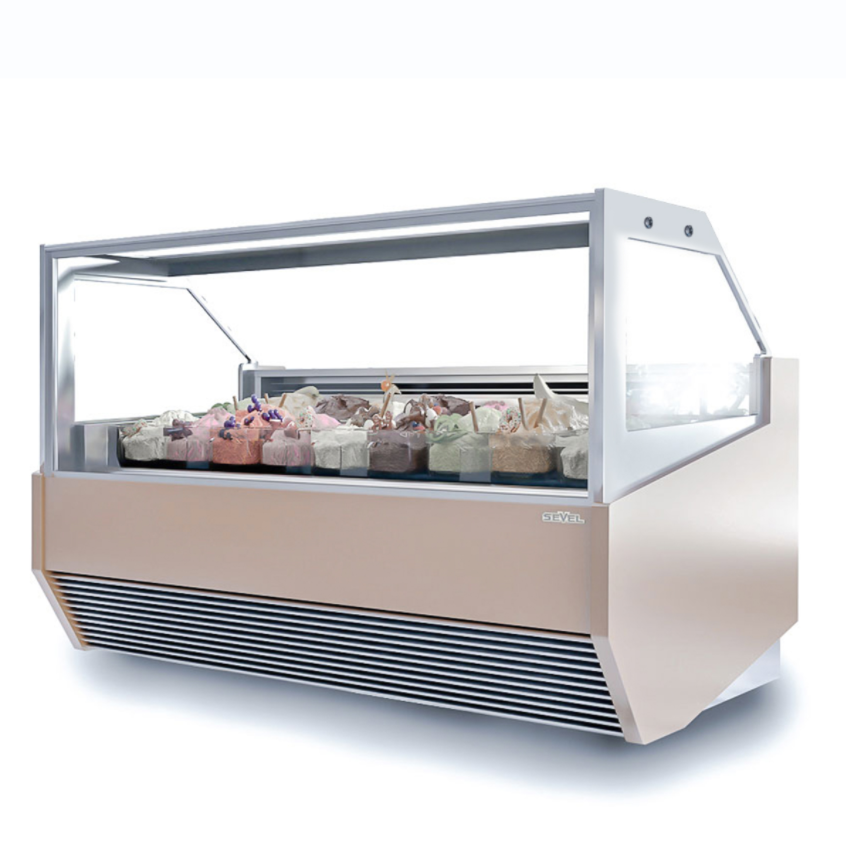 Showcase cabinets allow you to display ice cream & gelato products for your customers and create a visual experience
With showcase cabinets, you can organise and display your wonderful creations of ice cream & gelato in your storefront. These cabinets are available in a variety of sizes and colours and can be used in restaurants or retail spaces.
You can expect high quality, efficient and durable showcase to store and display your products. They are effective at defrosting, preventing temperature loss, through the polyurethane unibody, and have energy-saving abilities making them the top choice for all ice cream makers.
There is a whole range of showcase options to choose from with automatic defrosting, heated glass, fixed legs and the ability to work in very warm environments. They are suitable for displaying gelato, ice cream, pastries, ice cream stick products, chocolates and various desserts.
Get in touch with us at Artisan Industrial so we can help find the right showcase for you.
Main Features
Open display
Automatic defrosting
Heated glass
Fixed legs
Wheels (lockable)
Curved and straight designs available, depending on model
LED lighting
Range of alternative sizes – up to 30 pans
Models available with clear pans
Showcase Cabinets
Now that you've perfected your recipes and invested in the best equipment, all that's left is selling your pastries, ice cream, or gelato. Our Showcase Cabinets allow you to display your food items clearly and safely.
Having a wonderful showcase cabinet for your store or restaurant creates a visual experience for your customers. Highlighting your products, making them irresistible to your customers.
With automatic defrosting and heated glass our cabinets can operate in even very warm environments. In addition, the polyurethane unibody and energy-saving capabilities make our showcases the preferred option for many ice cream makers.
The good thing about our showcases is that they vary in size and features. Therefore, regardless of your specific needs, you can be sure we have the ideal showcase for you to fit your space and budget. Speak to one of our specialists at Artisan Industrial today to find out more information.
If you are interested in our showcase cabinets, get in touch with our team at Artisan Industrial. Otherwise, have a look at our other Ice Cream & Gelato Equipment below.

Artisan Industrial provides equipment solutions for this craft product, with focus on quality and freshness.
Learn More About Our Artisan Ice Cream & Gelato Equipment

The Artisan Industrial companies support a full range of equipment from mix plants through to filling lines, stick moulding machines and chocolate production.
Learn More About Our Chocolate and Confectionery Equipment