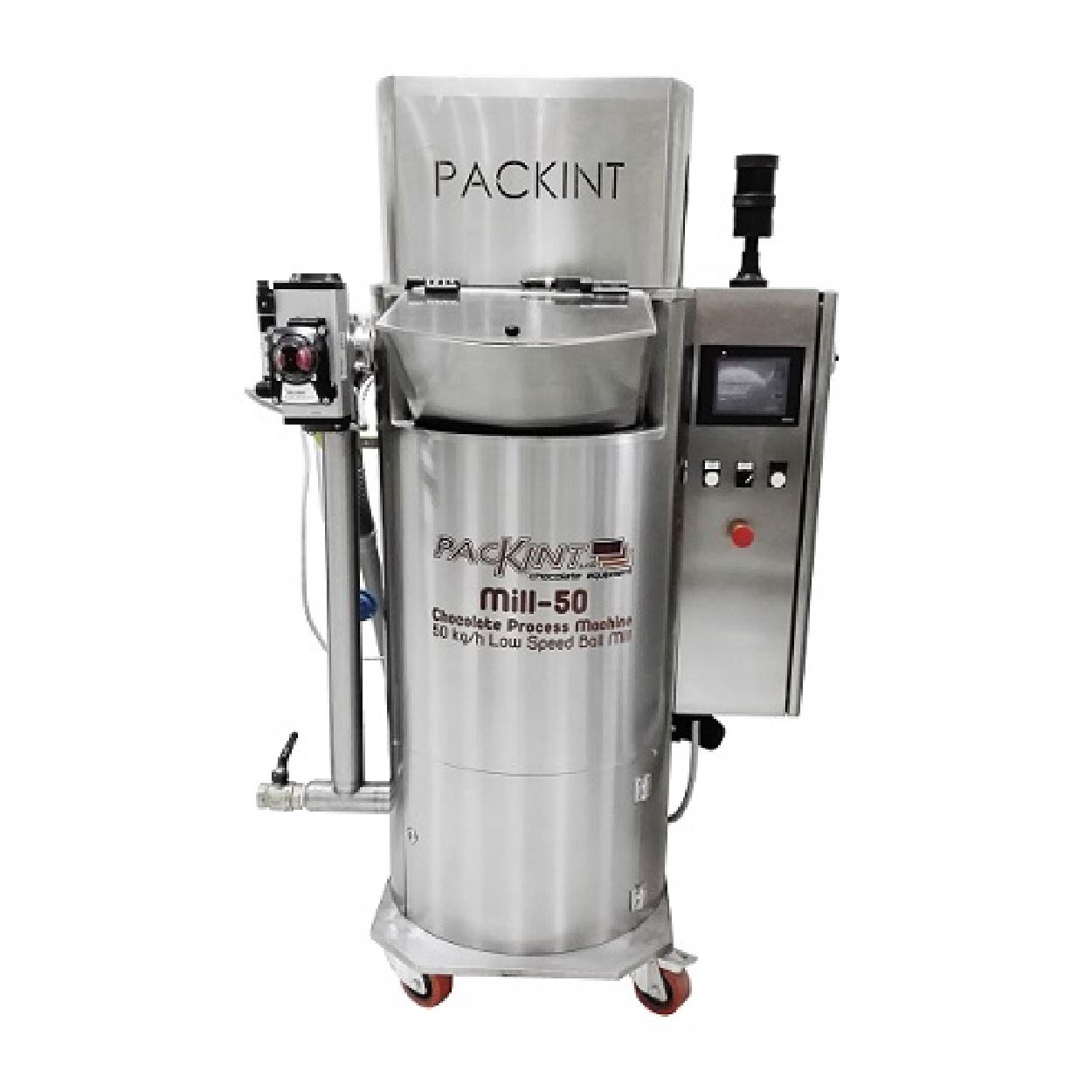 Low Speed Ball Mills use anti-wear alloy ball bearings, cylinder, arms and blades to refine cocoa beans, cocoa liquor and also used to make nut pastes
Not only can you refine your ingredients to make a consistently great chocolate product, but you can produce a range of nut spread creams or pastes. Low speed ball mills allow you to achieve an even particle size (18-20 microns) and fast processing times with low power consumption and low running costs
Main Functions and Features
Inner part consists of a cylinder and agitator with scraper at bottom (made of anti-wear alloy)
Pump for the product recirculation and discharge at end of the production cycle
Inverter to control the speed of stirrer and pump
Control of water and product temperature in heating and cooling modes
Equipped with electric control board for correct management of working operations with PLC and TOUCH SCREEN
Product discharged by a 3-way valve
Acidity/humidity extraction device
Hot air injection
Complete with 2 anodes
Each of our various models has different loading capacities and expected hourly production times. Get in touch with us to find out more.
Ball Mills
Low speed ball mills use anti-wear alloy ball bearings to refine chocolate or produce nut spreads and pastes.
The low speed ball mill is considered the heart of chocolate production lines and our technology allows you to achieve a final micron size of 18-20 microns, a tight particle size distribution and best temperature control.
The combination of the low speed and using the best anti-wear alloys is extremely important in preventing wearing and contamination.
They are equipped with a volumetric recycling pump which is able to work with more difficult two ingredient chocolate.
Our low speed ball mills also include a blower for the extraction of acidity and humidity during refining, and a hot air blower to allow a preliminary step of conching.
To find out more information about low speed ball mills, speak to us today.
If you are interested in ball mill equipment, get in touch with us today. Otherwise, have a look at our other Chocolate Making Equipment below.

The process of truly making chocolate, from the unroasted bean through to the finished bar.
Learn More About Our Bean To Bar Equipment

The art of batch producing chocolate and confectionery from base ingredients.
Learn More About Our Chocolate and Confectionery Equipment

When the process is so simple, and return on investment can be so quick, why buy, when you can make it yourselves?
Learn More About Our Industrial Chocolate Equipment