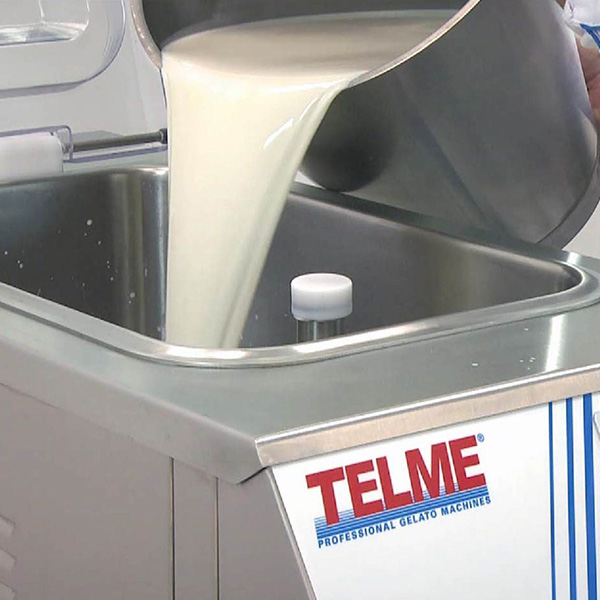 Pasteurisers are used for mixing ingredients and heating to eliminate bacteria and extend shelf life
Making the best ice cream and gelato isn't possible without a batch pasteuriser. They are commonly required to mix ingredients such as milk, creams, sugars and emulsifying agents to name a few.
During the heating process, pathogenic bacteria are eliminated and ingredients are evenly incorporated into the mix. Sugars and fats are melted and stabilising agents hydrated. Indirect heating is achieved by a food-safe heat-conducting liquid. Finally, the cooling phase further removes any residual bacteria and prepares your products at an ideal storage temperature. This process also allows for the ageing of your ice cream or gelato mix.
Telme has two models of pasteurisers; Evopasto Professional Batch Pasteuriser and Ecomix Top Level Batch Pasteuriser. They are available in maximum capacities of 30L, 60L and 120L. Enquire with us to learn more
Evopasto Batch Pasteuriser General Features
Electronic features to automatically select heating time based on pasteurising temperature
Adjustable heating and cooling (between 60°C and 90°C) and cooling (between 0°C and 20°C)
Two-speed adjustable agitation (takes 2 hours for pasteurising cycle with full charge of mix)
Dispensing tap with built-in washing
Draining sump fitted in vat for better discharge of the mix
Optional: washing unit
Ecomix Batch Pasteuriser Additional Features
Beater motor controlled by inverter for varying speed
Preset programs – built-in 'smart memory' if power supply interrupted
Resistive colour touch screen
Double lid to add ingredients without stopping mixing process
BATCH PASTEURISERS
Pasteurisation is an essential step to the ice cream-making process. Hence, the batch pasteuriser you use is integral.
At Artisan Industrial, we have high-quality pasteurisers to enhance your ice cream making process.
About Our Pasteurisers
Our machinery is designed to meet all your mixing, heating, and pasteurising needs. But beyond functionality, you also get pre-programmed options that you can configure using a touch screen depending on the model. They range from a capacity of 30 litres per to 180 litres per cycle.
Key Features
Adjustable heating and cooling
Optional washing unit
Built-in washing in the dispensing tap
Easy to use configurations
Our pasteurisers will achieve all steps – from mixing and blending ingredients, to melting fats and chocolate, and cooling and conserving. So, to enhance process efficiency and product quality using our high-performance equipment, get in touch with us today.
If you are interested in our pasteuriser equipment, get in touch with our team at Artisan Industrial. Otherwise, have a look at our other Ice Cream & Gelato Equipment below.

Artisan Industrial provides equipment solutions for this craft product, with focus on quality and freshness.
Learn More About Our Artisan Ice Cream & Gelato Equipment

The Artisan Industrial companies support a full range of equipment from mix plants through to filling lines, stick moulding machines and chocolate production.
Learn More About Our Chocolate and Confectionery Equipment