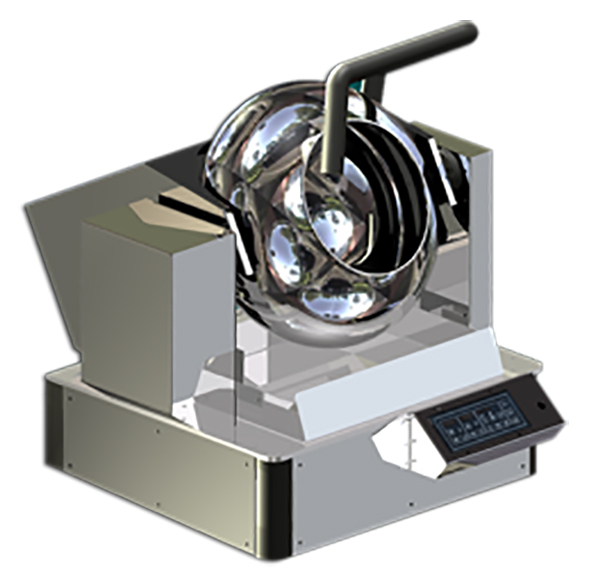 The process of coating generally rounded products with chocolate, sugar or even dry savory seasonings is referred to as panning
Panning machines allow you to extend your product offering by taking a variety of common snack foods like nuts and dry fruit and coating them in chocolate, sugar or even dry coatings like herbs and spices. We offer a variety of machines with batch sizes ranging from 1.5kg to 200kg. Copper pans which can reach high temperatures to achieve caramelization or standard stainless steel pans with a patented nebulisation system to create a perfect chocolate or sugar coating.
From coffee beans to puffed rice your imagination can run wild with product possibilities using our panning machines with different levels of technology depending on your production needs.
Main Features
Pans can be equipped with a chiller to blow cold air onto the product to speed up the drying process
If you are interested in destoner equipment, get in touch with our team at Artisan Industrial. Otherwise, have a look at our other Chocolate Making Equipment below.

The process of truly making chocolate, from the unroasted bean through to the finished bar.
Learn More About Our Bean To Bar Equipment

The art of batch producing chocolate and confectionery from base ingredients.
Learn More About Our Chocolate and Confectionery Equipment

When the process is so simple, and return on investment can be so quick, why buy, when you can make it yourselves?
Learn More About Our Industrial Chocolate Equipment