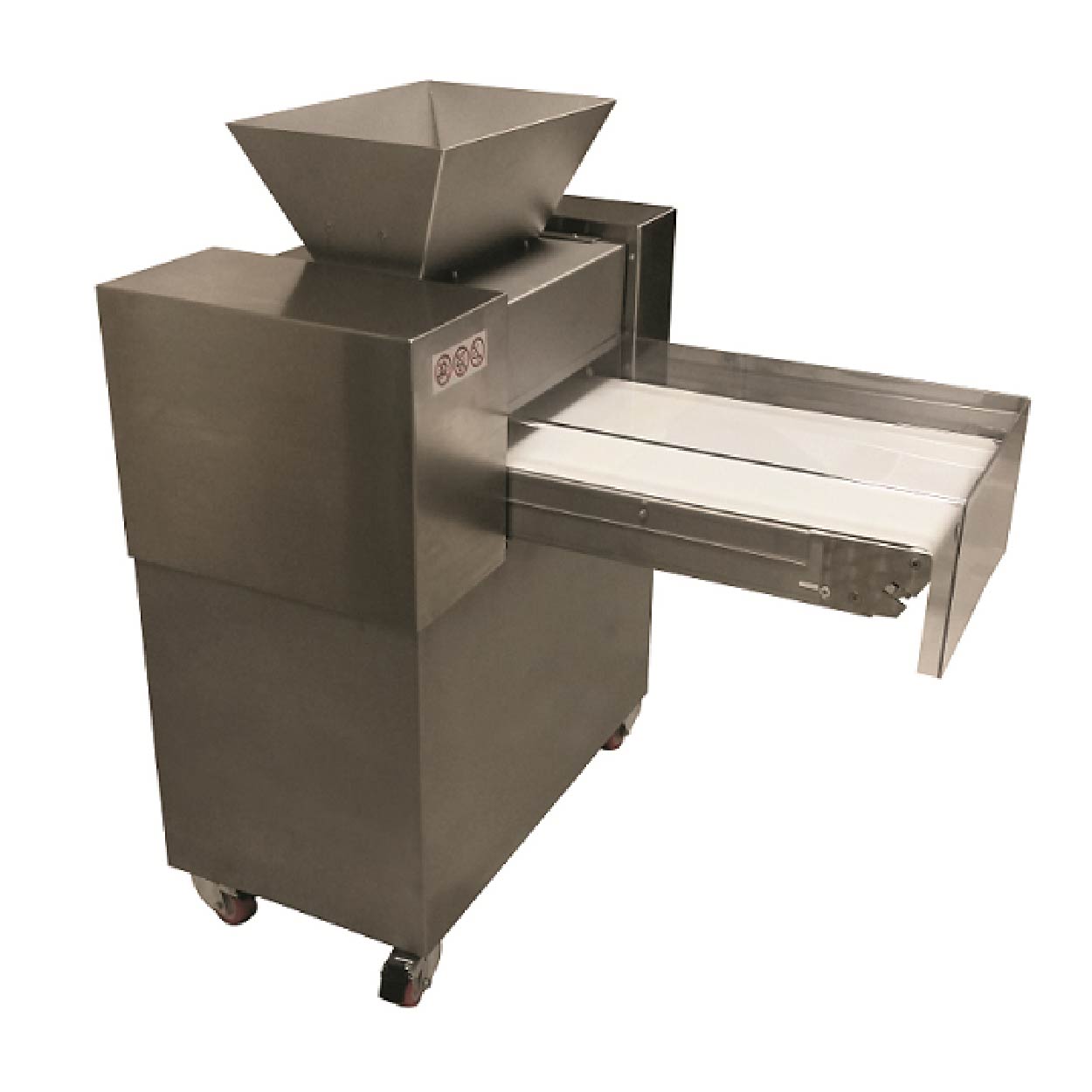 Pre-Refiners reduces not only the amount of time needed for refining but also the viscosity of your chocolate by ensuring a more even particle size
Adding a 2 or 4 roll pre-refiner to your production set up is an economic way to increase production and decrease labor costs
Main Functions and Features
R2 and R4 models:

2 rolls in porphyry of 400mm length (4 rolls with R4 model)
Adjustable distance
Input ingredient: cocoa nib
Output ingredient: cocoa flakes
Product output at maximum 35

°C to avoid overheating

Conveyor for product discharge
Production capacity: 50-70kg/h (100-150kg/h with R4 model)
Antistatic bar included
Pre-Refiners
Also known as two-roll or four-roll pre-refiners, turn cocoa nibs into a flake-like paste. This then reduces the amount of refining time needed and the viscosity of your chocolate by ensuring a more even particle size.
A stand out feature of our pre-refiners is that thanks to the slow speed, the flake-like paste never reaches above 30-35 degrees, without chilling needed. This avoids overheating which can affect the final flavor of your product.
Using a pre-refiner to process cocoa nibs prior to refining is an economic way to increase production and decrease labor costs. It is the perfect first step for an artisan producer to increase their production capabilities.
The distance between the rolls is adjustable and the pre-refiner is provided with a conveyor for product discharge.
If you are interested in pre-refiner equipment, get in touch with us today. Otherwise, have a look at our other Chocolate Making Equipment below

The process of truly making chocolate, from the unroasted bean through to the finished bar.
Learn More About Our Bean To Bar Equipment

The art of batch producing chocolate and confectionery from base ingredients.
Learn More About Our Chocolate and Confectionery Equipment

When the process is so simple, and return on investment can be so quick, why buy, when you can make it yourselves?
Learn More About Our Industrial Chocolate Equipment