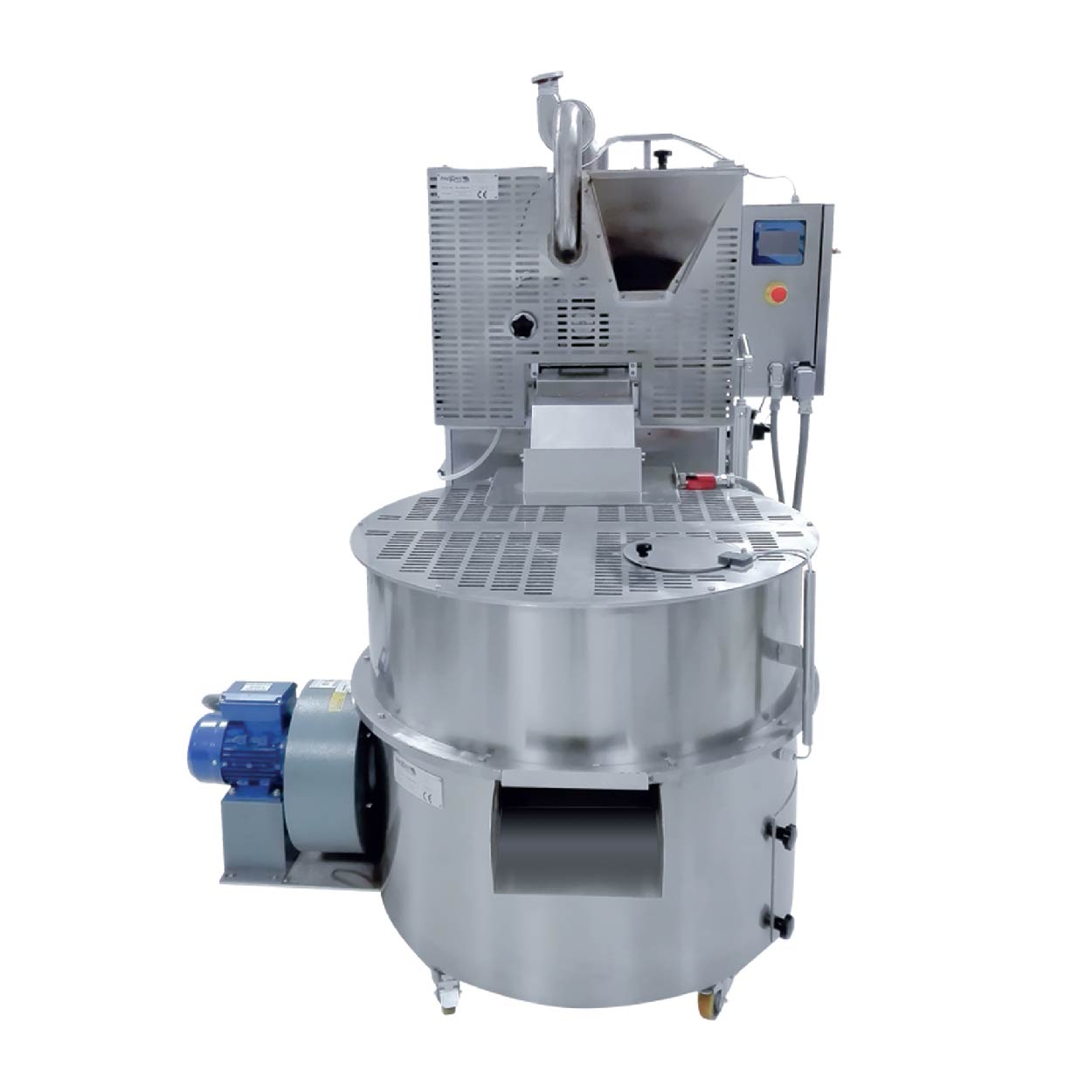 Cocoa bean and nut roaster equipment
Available in various sizes and loading capacities of 5kg, 35kg, 100kg, and 250kg
Main Functions and Features
Drum's speed control avoids the breakage of the shell preventing smoking of the beans
A fan depending on the desired programming quickly removes the excess
Equipped with plc + touch screen control for the
Automatic inlet of spayed water (immediately converted to steam by the heat) or directly the spray of steam, with a steam generator, both for an increased debacterisation effect
Automatic opening of the unloading door and the incline of the machine allowing immediate download of all the beans to the cooling carousel
Speed of the cooling carousel can be controlled to avoid breakages
Cocoa Bean and Roaster Equipment
If you are looking to create award-winning chocolate, you need to ensure your bean roaster is the best kind. Cocoa beans can be roasted and used to make cocoa liquor or bean to bar chocolate.
During the roasting process, different roasting profiles will help you to achieve a unique flavour profile. The amount of time for this step can vary, depending on what level of roasting you would like to achieve.
Our high-quality machines can roast from 5kg to 250kg. They are purpose-built to specifically roast cocoa beans, macadamia nuts, hazelnuts, pistachio, and other types of nuts.
We've got the ideal roaster to suit your needs. They are available in various sizes, with loading capacities of 5kg, 35kg, 100kg, and 250kg.
Ask about our various options to find your ideal roaster or have a look at our other Chocolate Making Equipment.
Speak to one of our specialists at Artisan Industrial to find out more information. Otherwise, have a look at our other Chocolate Making Equipment below.

The process of truly making chocolate, from the unroasted bean through to the finished bar.
Learn More About Our Bean To Bar Equipment

The art of batch producing chocolate and confectionery from base ingredients.
Learn More About Our Chocolate and Confectionery Equipment

When the process is so simple, and return on investment can be so quick, why buy, when you can make it yourselves?
Learn More About Our Industrial Chocolate Equipment